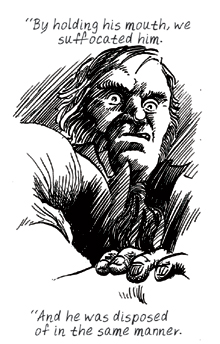 WINNER OF THE SCOTTISH INDEPENDENT COMIC BOOK AWARD FOR BEST GRAPHIC NOVEL 2011 AND BEST WRITER (MARTIN CONAGHAN) 2011.

The Story

In 1827, two Irishmen by the names of William Burke and William Hare disposed of 17 bodies to the Edinburgh medical establishment - 16 of them murdered - during a killing spree that lasted almost a year.

Their story is the stuff of modern legend - mired in falsehood, misconception and myth. Almost universally, the duo are hailed as 'graverobbers' or 'bodysnatchers', often depicted as stealing freshly-interred corpses to sell to the eager doctors at the Edinburgh medical school - when, as far as history is concerned, neither set foot in a graveyard with the intention of stealing a corpse.

The award-winning graphic novel Burke & Hare started out as an adaptation of the Robert Louis Stevenson story The Bodysnatcher for Caliber Comics (USA) in the mid-1990s. However, when a real tale of murder and medicine in 19th century Edinburgh came to light, a research-based story about the West Port Murders soon took shape.

Writer Martin Conaghan recruited artist Stuart Beel to work on his 48 page graphic novel script, but Stuart eventually resigned from the project due to other work committments. Artist Nulsh quickly came on board, but was similarly spirited away with other work.

Eventually, Caliber Comics ceased trading, and the script fell into limbo until late in 2008, when it was ressurected as an expanded story, illustrated beautifully by artist Will Pickering.

The story of William Burke and William Hare is steeped in dubious mistruth. In Burke & Hare, Conaghan and Pickering painstakingly recount the true facts of the case, based on extensive research, documented evidence, court transcripts, letters and newspaper reports from the era - all of which culminate in a graphic novel that paints a chilling picture of the crimes committed by two Irishmen in the name of medical science.

About the creative team:

Martin Conaghan's first

published

writing work appeared in Aceville Publications' Comic World in 1992, in the form of interviews with comic-book writers and artists such as Grant Morrison and Steve Yeowell. This was followed by a one-off Tharg's Terror Tale in the 1995 2000AD Yearbook and several short stories for the American publisher Caliber Comics, including an issue of their popular Raven Chronicles title. He now works in sports broadcasting at the BBC. He won the Scottish Independent Comic Book Award for Best Writer in 2011.

Will Pickering has been drawing comics intermittently for over twenty years, between stints as a barman, youth worker, marketing executive, music journalist, philosophy student, cabaret performer and DJ. He is currently in hiding somewhere in Europe.

Reviews for Burke & Hare:

The List: "A shadowy tale of greed and violence that sticks rigorously to the facts, with any deviations or flights of fancy catalogued in the expansive appendix. Will Pickering's art matches the tone perfectly with well-researched and realised depictions of 19th century Edinburgh. A creepy history lesson that suits these long winter nights."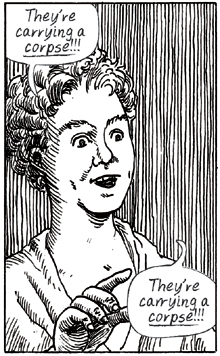 Down the Tubes: "Well paced, beautifully illustrated and painstakingly researched. Never gives in to the temptation to over dramatise events in a bloodthirsty Hammer Horror sort of way, even when there's ample opportunity to really play up the blood and gore angle. Delicate inking and well-researched visuals to capture the feel of 19th century Scotland, treating the readers to sweeping scenery, and moody crosshatching for those darker moments (of which there are many)."

Sci-Fi Pulse: "Brimming with murder, intrigue, cover-ups, conspiracies, and mystery, the gruesome tale of Burke and Hare has inspired many other artists to create fiction, plays, poetry and films drawing on the terrible events of the infamous West Port Murders of the early 19th century. However, from the classic novel by Robert Louis Stevenson to the up-coming John Landis movie starring Simon Pegg, myth has become fact. It is now time for the truth to be set free."

Forbidden Planet: "Genuinely chilling at times, just as it should be; the moments where Burke quite calmly recounts the murders, one after another, always ending with some iteration of the phrase "and she was disposed of in the same manner" really manage to convey the real horror of what was done, thanks to Conaghan's writing and Pickering's evocative artwork."

Bodies for Gold: Forbidden Planet interview with Martin Conaghan and Will Pickering.

Burke and Hare get their own comic book: STV video interview.

Burke and Hare transformed into comic stars: Scotsman article.